Choosing the right, or if you like, the best blender for smoothies can be a tough and challenging decision. Yes, you love smoothies, and you probably think you can make a smoothie in any blender. Well, that is just partly right. You might not know this, but there is a difference in quality between a smoothie and a smoothie. And it all comes down to the blender you use. Of course, your skills in the kitchen and matching fruits and vegetables are also important, but the blender is the device that makes all possible.
If you are a foodie and love smoothies, we have rounded up 10 best blenders you can use to prepare smoothies. But before we get to the list, let's talk about smoothies, why are they so popular, and the different blenders you can use.
What is the thing with smoothies?
In the past several years, smoothies have seen enormous upside in popularity. The reason is simple, good marketing. Marketed as an alternative to breakfast, smoothies saw their stock rise. Who doesn't want a healthy breakfast you can make in a matter of a few minutes? Right? And you get all the vitamins and minerals. Well, is there anything better?
The delicious taste of smoothies is what made them popular. You can say smoothies are a great nutritious breakfast to start the day. But you can consume throughout the whole day, not just for breakfast. Having one smoothie per day will pave the way for good health, and it is up to you to choose the favorite smoothie.
Benefits of smoothies
We mentioned that smoothies are considered healthy food nowadays. What are all of the benefits of consuming smoothies? Let's break them down.
Help you lose weight without skipping meals, as long as you do not use only high sugar fruits
Being that they are made of mostly water, smoothies improve your hydration and prevent dehydration during the hot summer days
Make you feel full, despite not eating a meal, and prevent you from snacking on unhealthy and sugary foods in between meals
Improve and aid digestion, as it is easier for your body to absorb minerals and vitamins in fluid form than in the solid form
Smoothies contain fiber, unlike juices, and that helps control digestion and bowel movement
Made with leafy greens and vegetables, smoothies are an excellent source of antioxidants. When was the last time you ate a whole cup of solid kale or spinach? With a smoothie, you can easily drink it
Most of the fruits and vegetables in smoothies are highly beneficial for your skin and complexion
Healthy breakfast made of a smoothie can prevent and treat sleep disorders
Types of blenders
You might think that there is just one type of blender. Well, you are wrong. The good news is, all blenders are able to make smoothies. However, one type makes better smoothies than others.
Generally speaking, there are four types of blenders, and those are hand blenders, personal bullet blenders, countertop blenders, and high-performance blenders.
The ideal type of blender depends on what will you use it for, and how often you plan to use it. Every type of blender has its own set of pros, cons, and limitations.
Here is a quick breakdown:
Hand blenders are best for soups and simple smoothies with soft ingredients
Countertop blenders are ideal for simple smoothies, but also protein shakes, and milkshakes
Personal bullet blenders can make all types of smoothies and protein shakes
High-performance blenders can make smoothies even with the toughest ingredients. You can also use them for nut butters, nut milk, soups, and more
Hand Blenders
This is one of the most common types of blenders. And it is cheap, making it affordable for those who want to make a smoothie every now and then. You can take them anywhere you go with you, and they are so easy to clean, just wash the blades and you are ready to go.
Pros:
Portable size
Easy to store
Easy to clean
Cons:
Quite noisy
Not good for tough vegetables and leafy greens
Cannot handle lots of ingredients
Only a single serving
Countertop blenders
Countertop blenders are considered a more advanced version of hand blenders. They are not quite the professional and high-performance powerhouse but can do more than a hand blender.
Pros:
Powerful enough to handle a wide range of ingredients
Budget-friendly
Cons:
Cannot put ice in it
Take up a lot of space
Challenging to clean
Personal bullet blenders
In the past few years, this type of blenders has become the best blender for smoothies. And rightfully so. Think of them as the middle ground between hand blenders and high-performance blenders. The bullet blender is much better than a countertop blender and is not as limited.
Pros:
Takes less storage space than the countertop blender
The blending cup is perfect for one serving
Some models can crush ice
Affordable when compared to high-performance blenders
Cons:
Potential for leaking due to the upside-down nature
Blades are not always dishwasher friendly
Low capacity
High-performance blenders
This is the ultimate blender if you like to make professional smoothies. We have to mention, that for home usage, it might be a bit too much in terms of price and storage space.
Pros:
Best texture and consistency
Can make more than one smoothie servings at a time
Can process even harder ingredients
Cons:
Lots of storage space
Very noisy
High price tag
Difference between a blender, juicer, and food processor
This is one of the most confusing questions people ask. Should you buy a blender, juicer, or a food processor. Well, if your goal is to make smoothies, the blender is the way to go. Why? Because juicers and food processors do not get you the consistency and texture you want.
Food processors work best for chopping, shredding, and dicing vegetables. But they will not produce smooth enough texture and consistency of your smoothie.
Juicers, on the other hand, extract just the liquid of fruits and vegetables. But they discard the pulp, and with that, the crucial fiber in fruits and vegetables.
Any blender can make a juice, and you can filter the pulp later with a strainer. But a juicer will never make you a real smoothie.
Things to consider before buying a blender
To find out what is the best blender for smoothies for you, there are some factors to consider. Here is a quick breakdown.
Number of people to serve, as some blenders come with family-sized jars
Size and storage space required
Ease of cleanup, are they dishwasher safe
Available blending controls, including speed and pulse
Power of the motor, above 800 watts is recommended for smooth and high-quality smoothies
Top 10 Products Reviewed
Hamilton Beach Personal Blender

If you need a blender for every now and then, this is one of the better options you can find on the market. It might not pack the power of more expensive blenders, but it is still quite decent. With a 175-watt motor and one-touch pulse, you can make one smoothie at a time.
Being it small and light, it is also travel-friendly. Easy to wash by hand and dishwasher safe, you can clean it in no time, and make another smoothie. You can also use to blend soups, make chia pudding, salad dressings, and more.
Comes with a 14oz jar and lid, and stainless steel blades. Yes, you can use it to crush ice.
Pros:
Easy to clean
Travel-friendly
Cheap, yet efficient
Cons:
Short lifespan
You have to hold the blend button
Vitamix Professional Series 750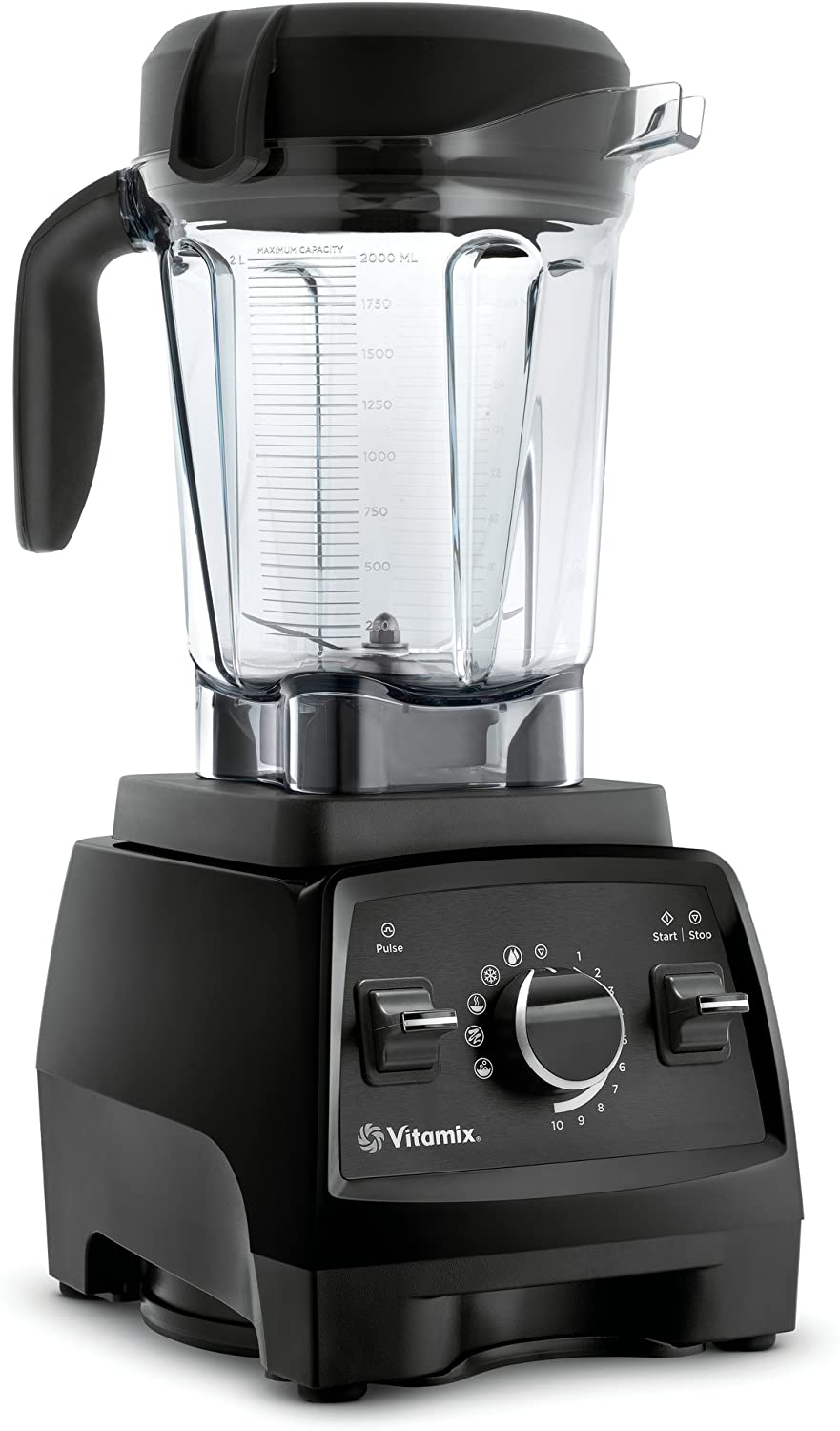 When you talk about professional blenders, the Vitamix Pro comes on top of the list. Probably one of the best blenders for green smoothies. You can use to make smoothies, frozen cocktails, and more commercial drinks.
Designed with high-grade durable blades, which produce 37,000rpm. All that power allows you to make a smoothie with ease.
The blender comes with five pre-programmed speed settings, and you can adjust accordingly. But you also get variable speed control for full control over the consistency and texture of your smoothies. The large container can fit several servings. All in all, great family blender.
Pros:
Durable construction
Versatile
Dishwasher safe
Can make multiple servings at once
Cons:
Very expensive
Noisy on peak speed level
The Nutribullet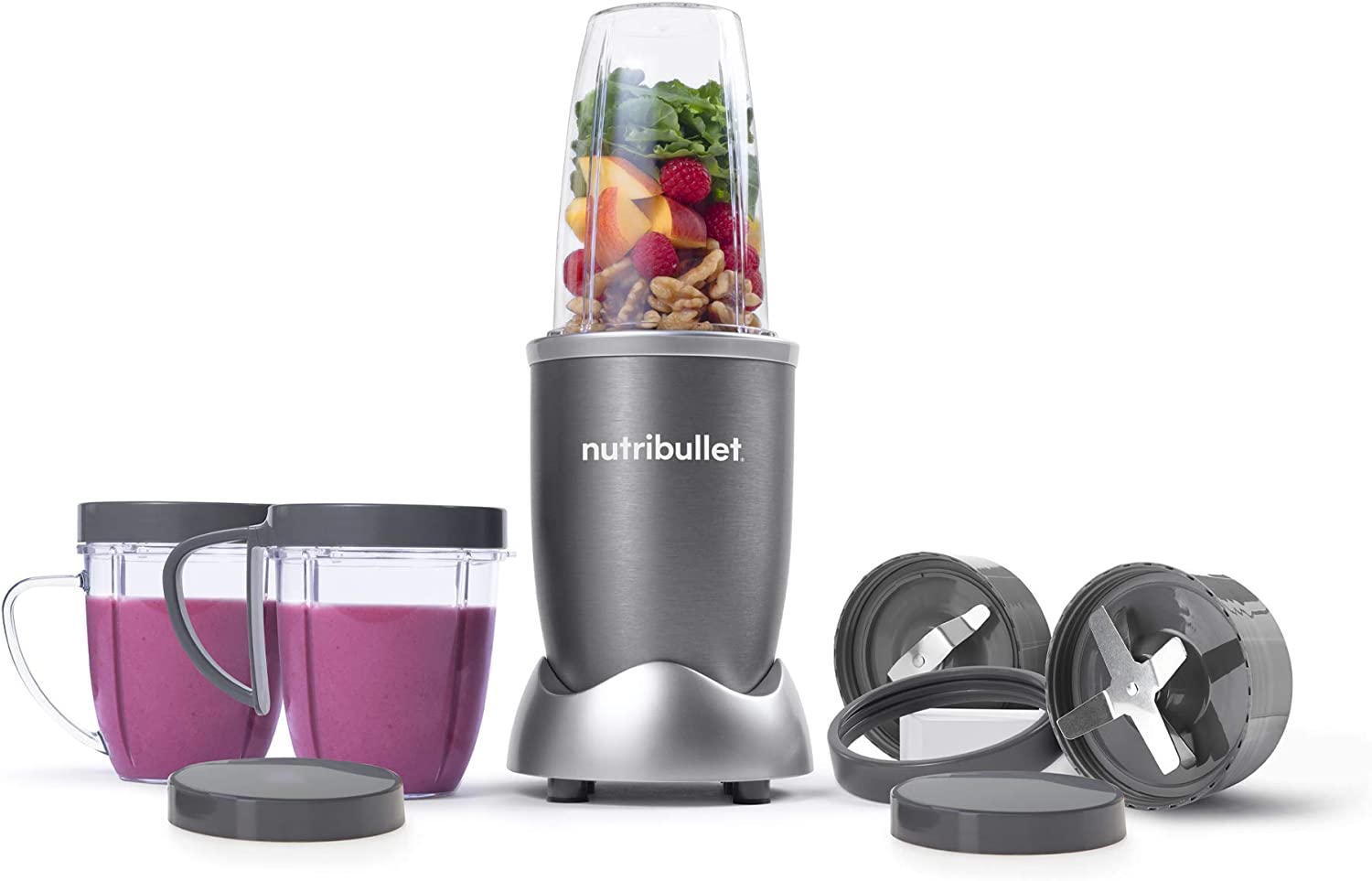 You can say that the Nutribullet is the reason why blenders are more popular than ever. This Amazon best-seller has more than 5,000 five star reviews. This is not your average blender. In fact, it has a special patented nutrient extractor blades that break down stems, seeds, and skins of fruits and vegetables.
As a result, you get a silky-smooth texture in your smoothies and juices. Yes, this blender can make perfect juices as well, without the annoying chunks in the texture. Other usages include preparing pesto puree, sauces, hummus, soups, and more. The only question is, is there anything the Nutribullet cannot do? No, there is no such thing. There is a reason why most blenders are compared to the Nutribullet in terms of their quality.
Pros:
Amazon best-seller
Patented nutrient extractor blades
Can make juices, sauces, hummus, puree, and more
Cons:
Some users claim it is poorly engineered
Not so durable
Vitamix E310 Explorian Blender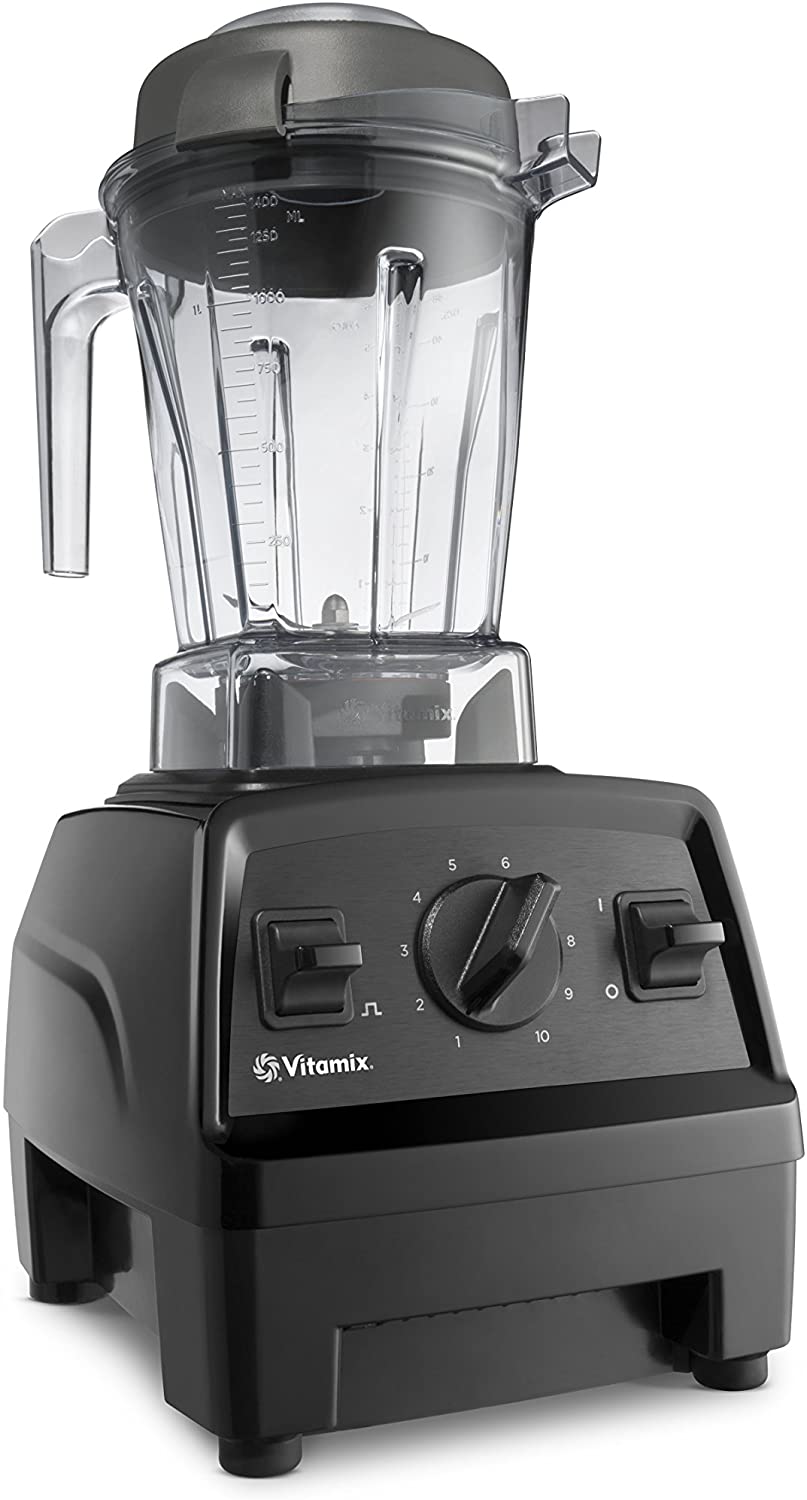 If you are looking to get a professional blender, but you are not willing to pay extra for the Vitamix 750 Pro, you can get another high-quality blender. Vitamix has something for everyone, from cheaper, to more expensive blenders. Yes, the 750 Pro is the cream of the crop, but there are decent options for less money.
The E10 is perfect for daily use, even if you make smoothies for more than one person. With a container of 48 ounces, you can make three or four servings easily. The main difference between the Pro and E310 is automatic settings for making smoothies. But there is nothing wrong in a manual switch, right? Especially when it saves you a couple of hundred dollars
Pros:
Capacity of 48 ounces
Professional blender for an affordable price
Cons:
The canister doesn't lock in place
Space at the bottom means your food will not be blended evenly
Jamba Professional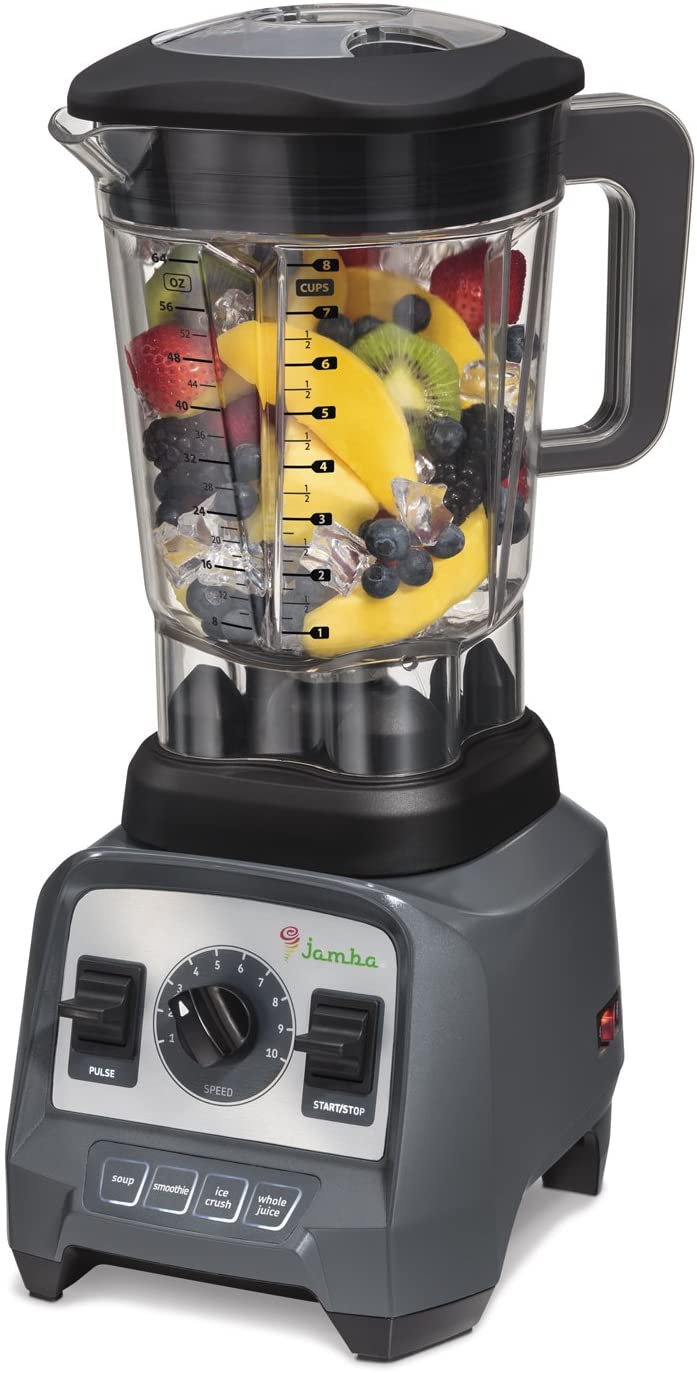 You can say this is a bit more affordable high-performance blender. For those looking to get the maximum efficiency and smoothest consistency without spending a fortune, Jamba is the way to go. Blades are part of the container, the same as with the Vitamix. Equipped with a 1,8000-watt motor, it can produce 2.4 HP on peak level. It comes with 10-speed settings and four preset settings that include smoothie, soup, whole juice, and ice crush.
The container offers 64 ounces of capacity, which is enough to cover a whole family on a daily basis. And the best part is you get a recipe book with 150 smoothies, just in case you run out of ideas.
Jamba can do almost everything Vitamix can do, at a lower price. The biggest downside is that it is not dishwasher safe. And you might find some seeds in the smoothie, as it does not provide perfect consistency. But that is rare.
Pros:
Affordable price for a high-performance blender
Long warranty
Recipe book
Cons:
Not best consistency
Not dishwasher safe
KitchenAid 5-Speed Blender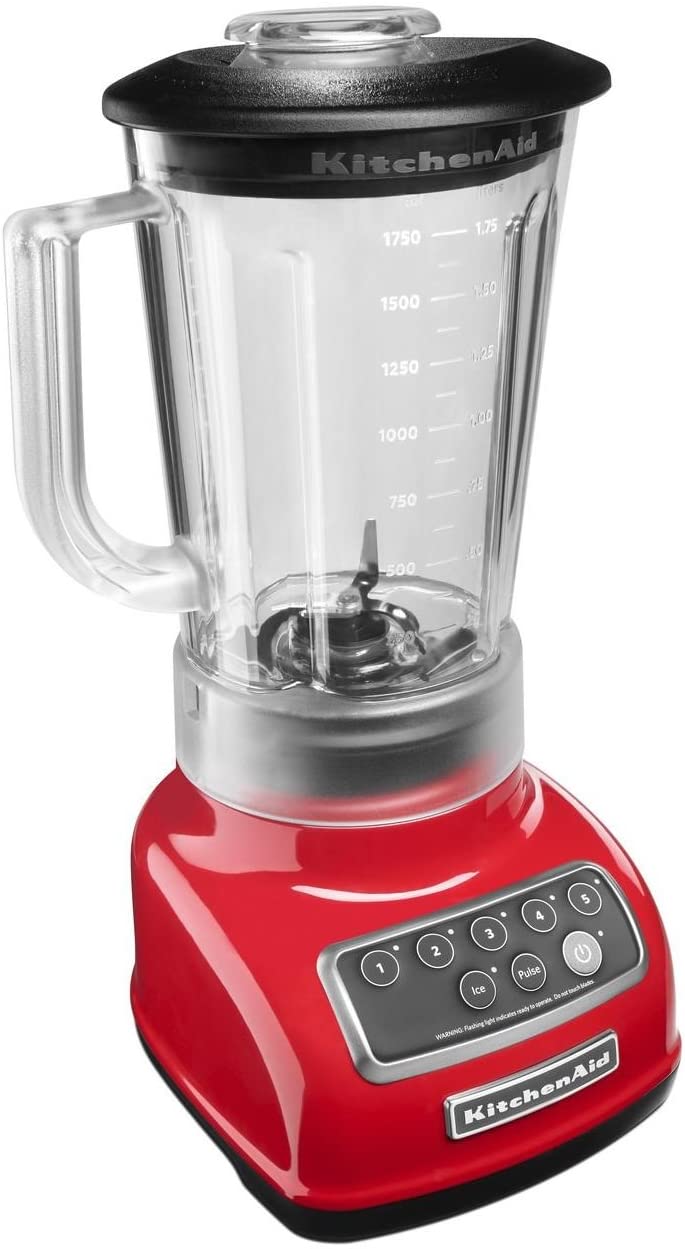 If you do not want to spend a fortune on a blender, but get a high capacity container (56 ounces to be exact), look no more. Truth be told, not all of us can afford to spend a fortune. KitchenAid delivers quality and high capacity at a low price.
Yes, the motor is not the most powerful one, but it is still good. The blender is an all-purpose tool that gets the job done. And it takes little to no space. Probably the best part, you can get it in different colors to match your interior. Available in red, black, white, and silver.
Pros:
Color versatility
High capacity
Cons:
Lid doesn't seal properly
Not as durable
Breville BBL620 Fresh & Furious Blender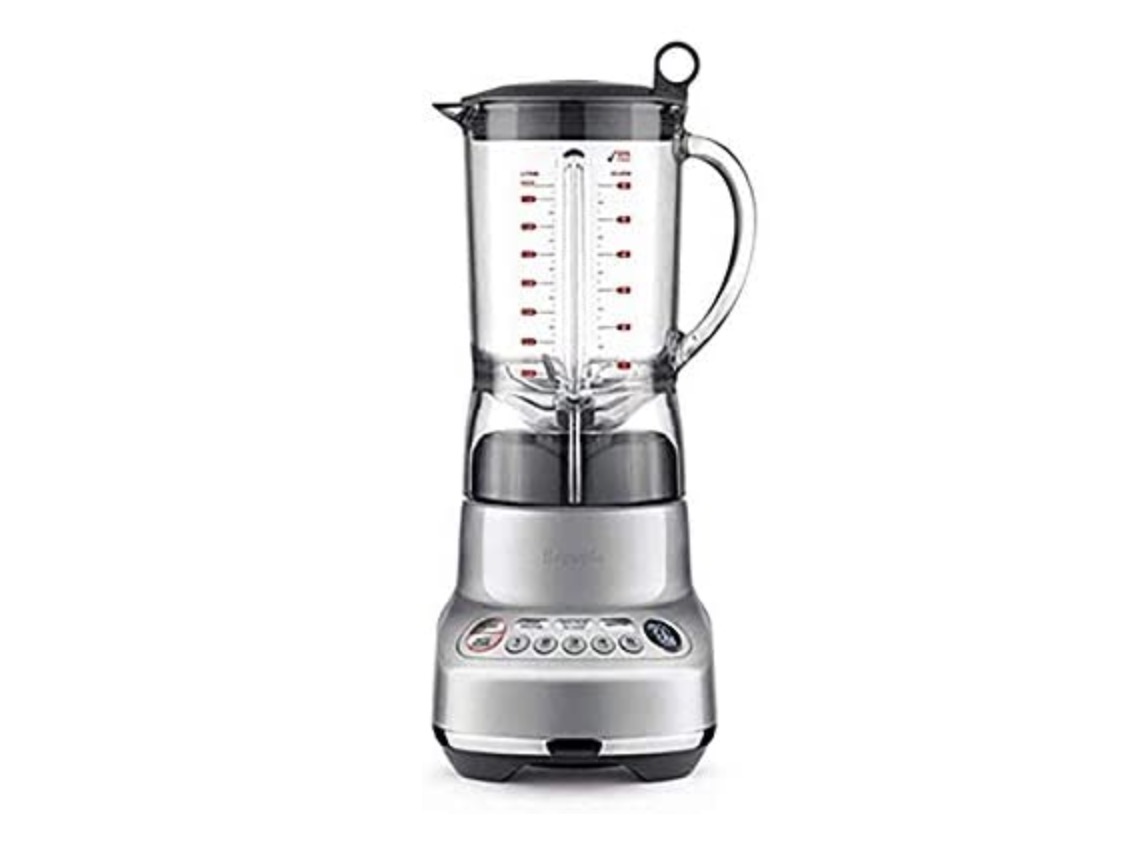 The best product by Breville is the Hemisphere Control model. However, it is increasingly difficult to find it, as it is out of stock at Amazon and Bed Bath & Beyond. There is no telling when it will be restocked. Representatives from Breville say that the Fresh and Furious blender is the best alternative to the Hemisphere control.
With nine task controls, it comes with two automatic smoothie settings. You have one setting for green smoothies and one for smoothies with a little less roughage.
It is also one of the more quiet blenders on the market. Thanks to the blade design and high torque motor, you get quiet and efficient blending performance.
Pros:
Quiet and efficient blending performance
9 Controls, 2 automatic settings
Cons:
Lid is very tight to access the blender
Plastic design
Breville Control Grip Immersion Blender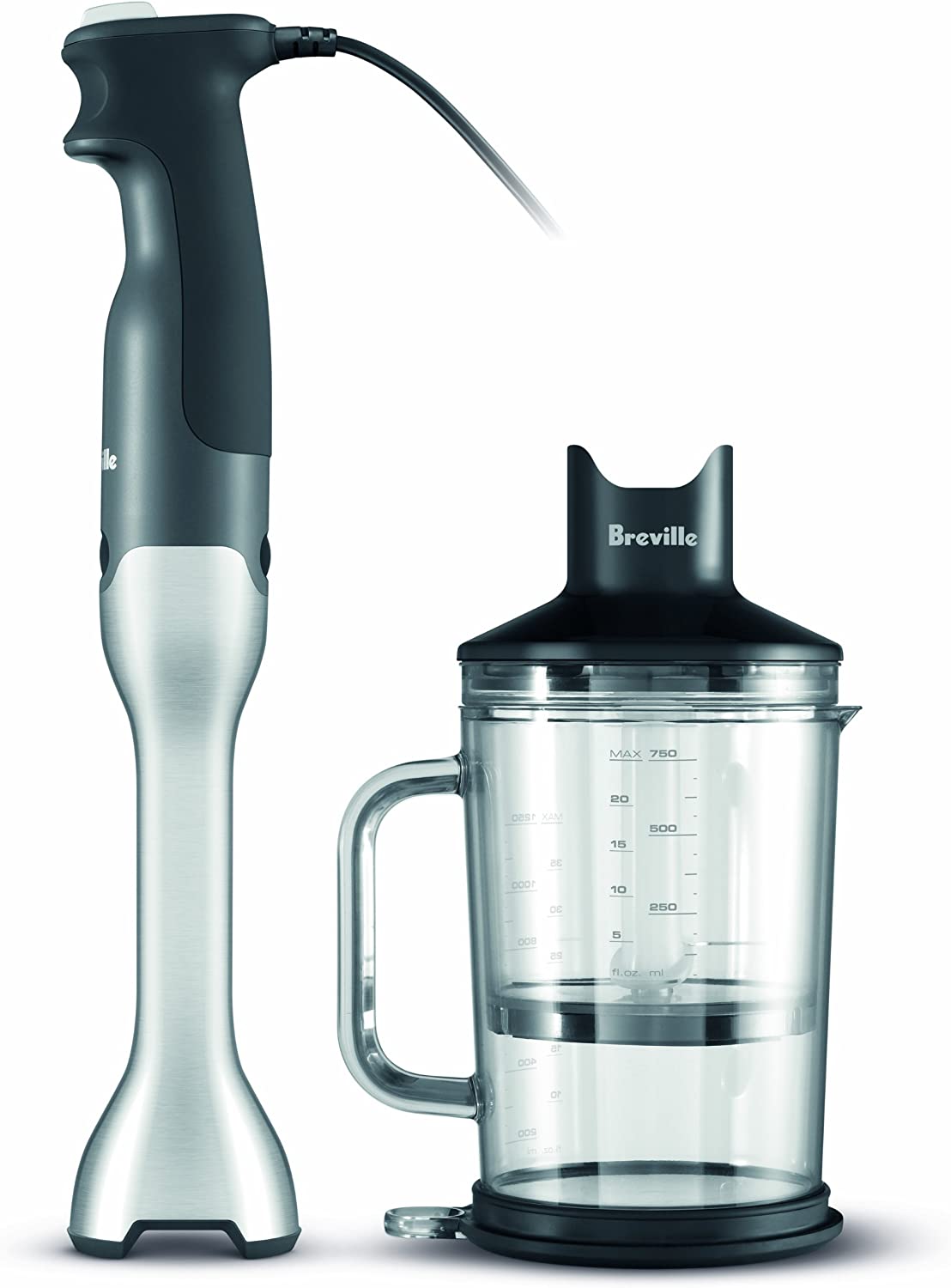 For those of you that are not smoothie fanatics, but you want a gadget that can come in handy every now and then, here is the product for you. You can puree and blend with this immersion blender by Breville. With a 42 ounces jug and 25 ounces chopping bowl included, you have a decent capacity.
The motor is 280 watt, with press pulse available.
We wanted to give you one handheld blender, and Breville is the best in that regard. The downsides and limitations of this blender are the same with all handheld blenders. But unlike many other hand blenders, it can crush ice cubes and make fluffy whipping cream.
Pros:
Super easy to clean
Can crush ice
Comes with a whisk and chopping bowl attachment
Cons:
Poorly designed head
Handle too long
Ninja Blender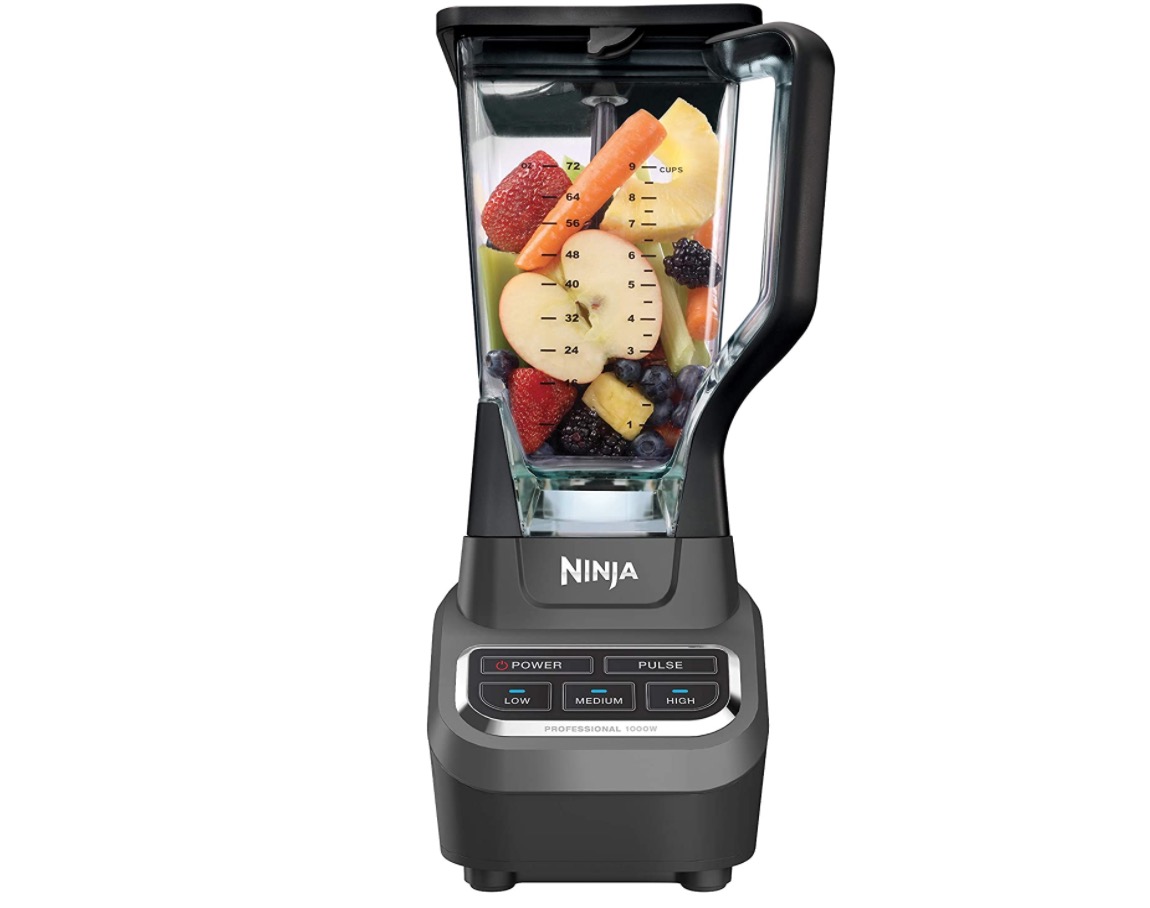 This blender is the best affordable alternative to the much-loved Vitamix. You get a professional blender with 1000 watt power and 64 ounces capacity of the container. That is more than enough for most people. And the price is absurdly low for such a device.
Super easy to use and clean, you will enjoy your morning smoothie without a toll on your wallet.
Pros:
Powerful, can crush ice cubes
Relatively affordable
Comes with extra accessories
Cons:
Pitcher quality and design is average
Can deliver unblended ingredients at times
Oster Versa Pro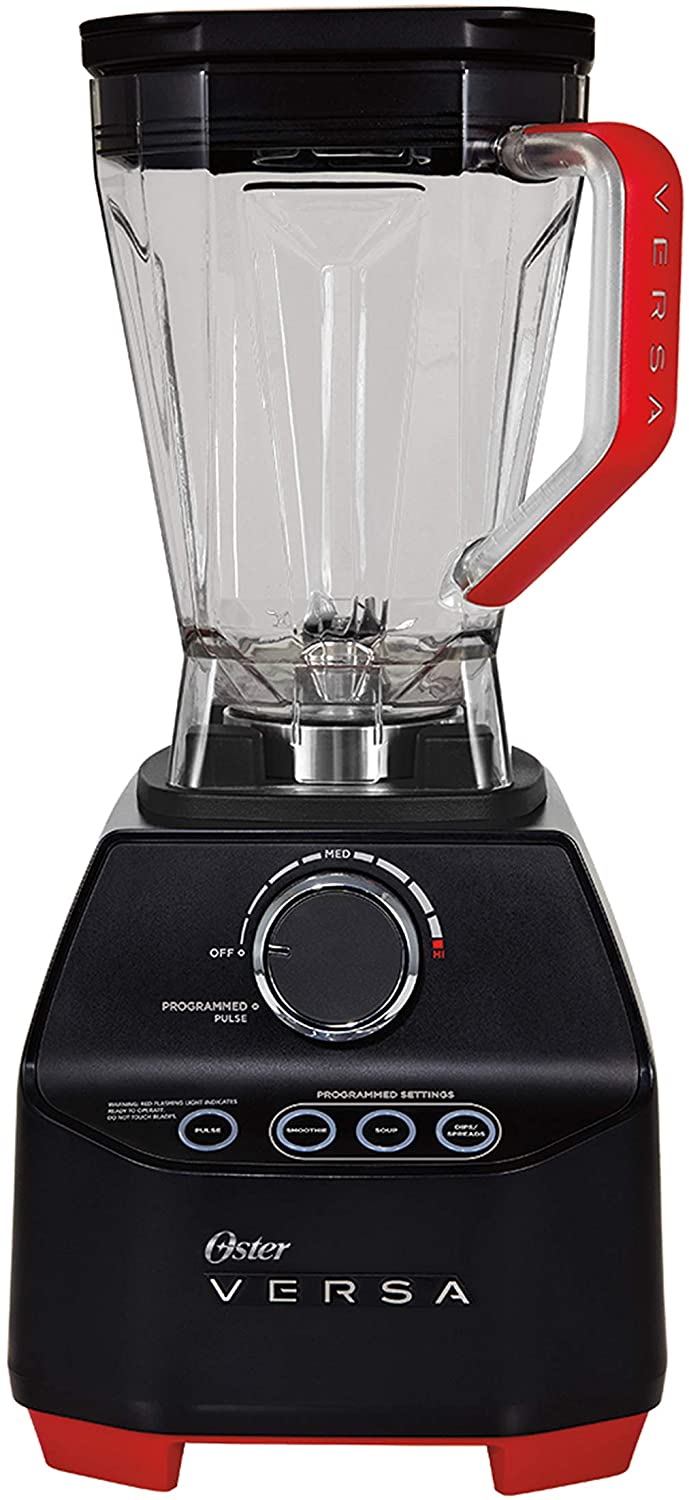 You get an improved smoothie blending experience at an amazing and affordable cost. Has a 1,400-watt motor inside, meaning you can use for all types of fruits and vegetables. And with such power, you can even put nuts in your smoothie.
Fitted with stainless steel blades, the machine is simple to use. You get automatic programmed settings that allow you to choose the ideal blending speed. The three options include soups, smoothie, and dips. The best part is the jar, which while of large capacity, can still fit in most kitchen cabinets.
Pros:
Cost-effective
Large capacity
Long warranty
Cons:
Made of plastic materials
The jar is susceptible to breakage