What is GeoGuessr? It is a web-based geographic discovery game. Designed by Anton Wallen, who is a Swedish IT consultant, the game was released on May 9, 2013. But the challenge with the game is that you have to pay to play it. In the world of Internet-free stuff, not many people are willing to pay, even for a quality product. So, we need to look for a GeoGuessr alternative that is free.
Do not worry, we have plenty of those.
GeoGuessr Gameplay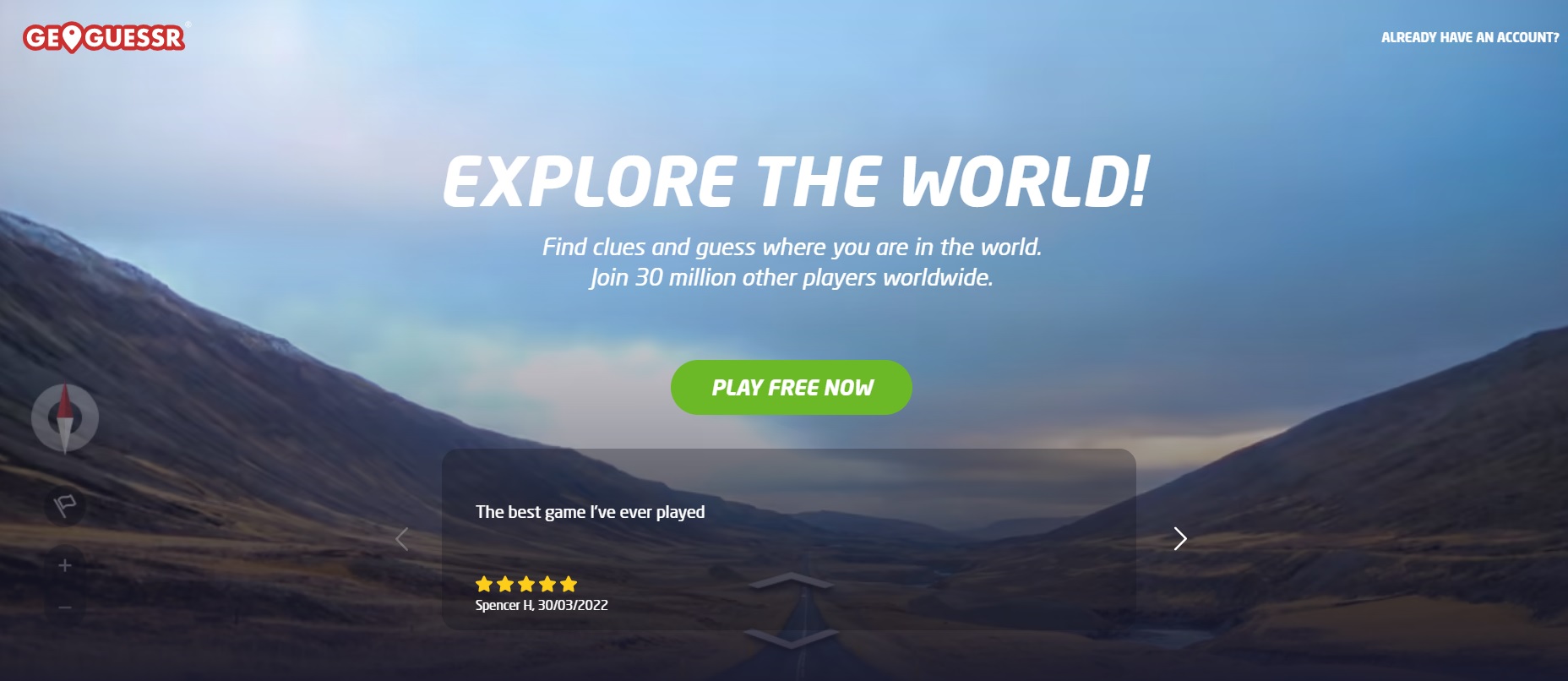 Before we get to some of our picks for a GeoGuessr alternative, let's talk about the game itself.
The classic GeoGuessr game mode consists of five rounds. During each round, you are shown a different street view location. Depending on how close to the actual photo location you guess, you can score more points. The maximum is 5,000 points.
The game can be user-generated or random. There are also alternative modes, including the Battle Royale. This is a multiplayer game, a last-man-standing style. There are duels, including two-player head-to-head competitions, streaks, and more.
You can also try explorer more, which is a single-player game where you get medals for accuracy in individual countries. In 2022, the company released the quiz mode, which combines standard street view gameplay and trivia questions.
Of course, it is not easy to play. You need to use some strategy on your part. For example, you can guess the location by reading road signage, finding the relative position of the sun, identifying flora types, soil types, and more.
There is a free and paid subscription. The free restricts you to five minutes of play every 15 minutes. But if you like a no-restrictions play, you have to pay $1.99 per month.
Can You Play GeoGuessr Without Paying?
As we said before, there is a GeoGuessr free subscription. But it is quite limited. You can play only for 5 minutes every 15 minutes. That means that within one hour, you can play a maximum of 20 minutes. And you have to time it right.
Luckily, there are plenty of games out there. Read on to find out some of our picks for a GeoGuessr alternative.
Best Geoguessr Alternatives
City Guesser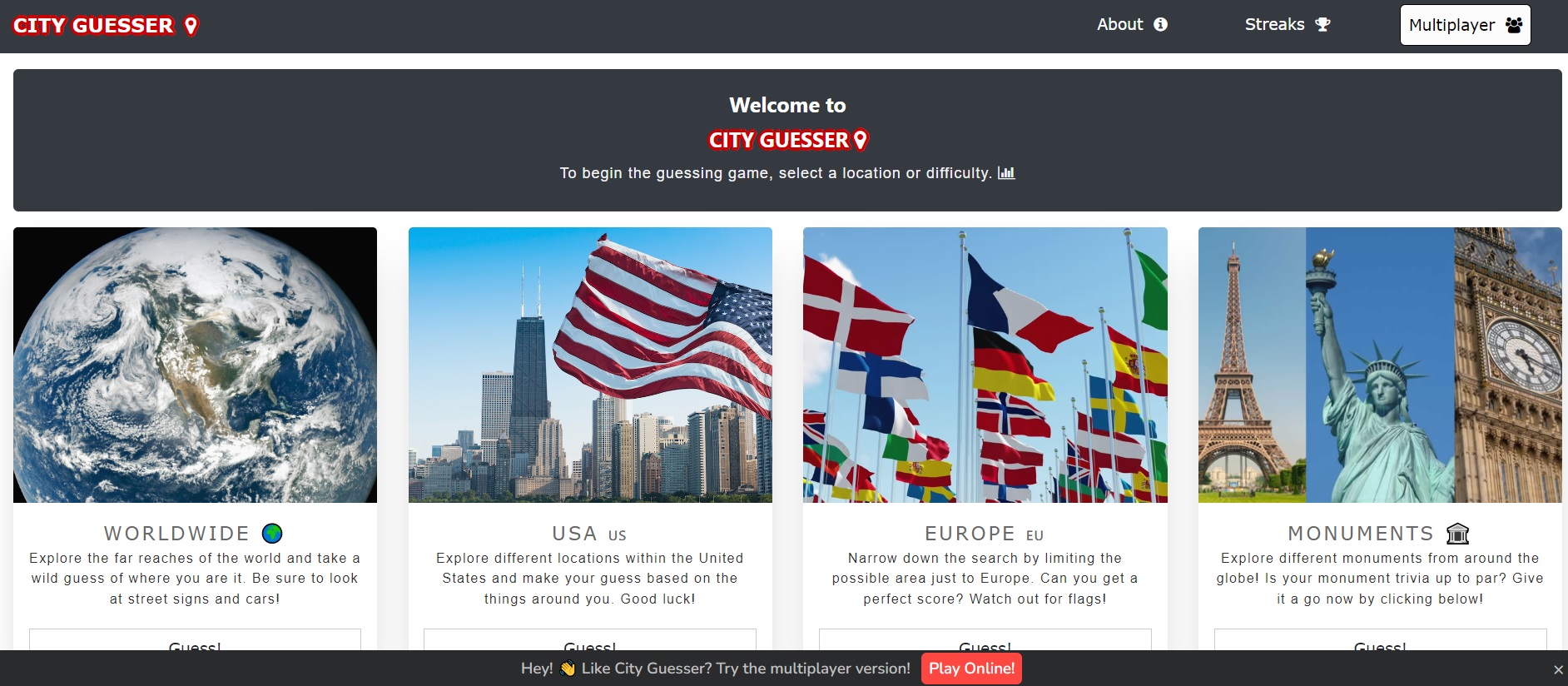 City Guesser is the best free GeoGuessr alternative out there. This browser game is quite similar to the original game. But it uses video instead of Google Maps API.
And it is free. You can play a full-screen video of a random location and then start guessing. There are two options for how to play it. Either create a private room or join a public one.
You can play with locations from all over the world. Of course, if your geography is not of that high level, you can narrow your focus to a country, region, or continent.
Some of the options include Japan, France, Russia, India, and the United States. Maps can also be divided into major cities, busy places, capital cities, snowy landscapes, coastal cities, and more.
The game is not as challenging as GeoGuessr, but it is free. And it is still entertaining to play.
Play Geography

The name says it all. Play Geography is a geography game similar to GeoGuessr. The edutainment firm TeachMe made the PlayGeography game.
The company itself makes family-oriented educational games and applications. Playing this game will help you learn more about world geography.
The downside is that there are no 3D maps or videos like City Guesser. But hey, it is a free game, so do not expect as much. You get 2D maps on which you have to guess the city, state, country, or flags. Think of it more like a map quiz game.
There are five different game modes. These are capitals, countries, locations, flags, and states/provinces. You can also adjust the game difficulty level. Each game comes with a timer. The faster you answer the question, the more points you will win.
If your objective is to learn more about the world in a fun way, it is a perfect alternative to the paid version of GeoGuessr.
Seterra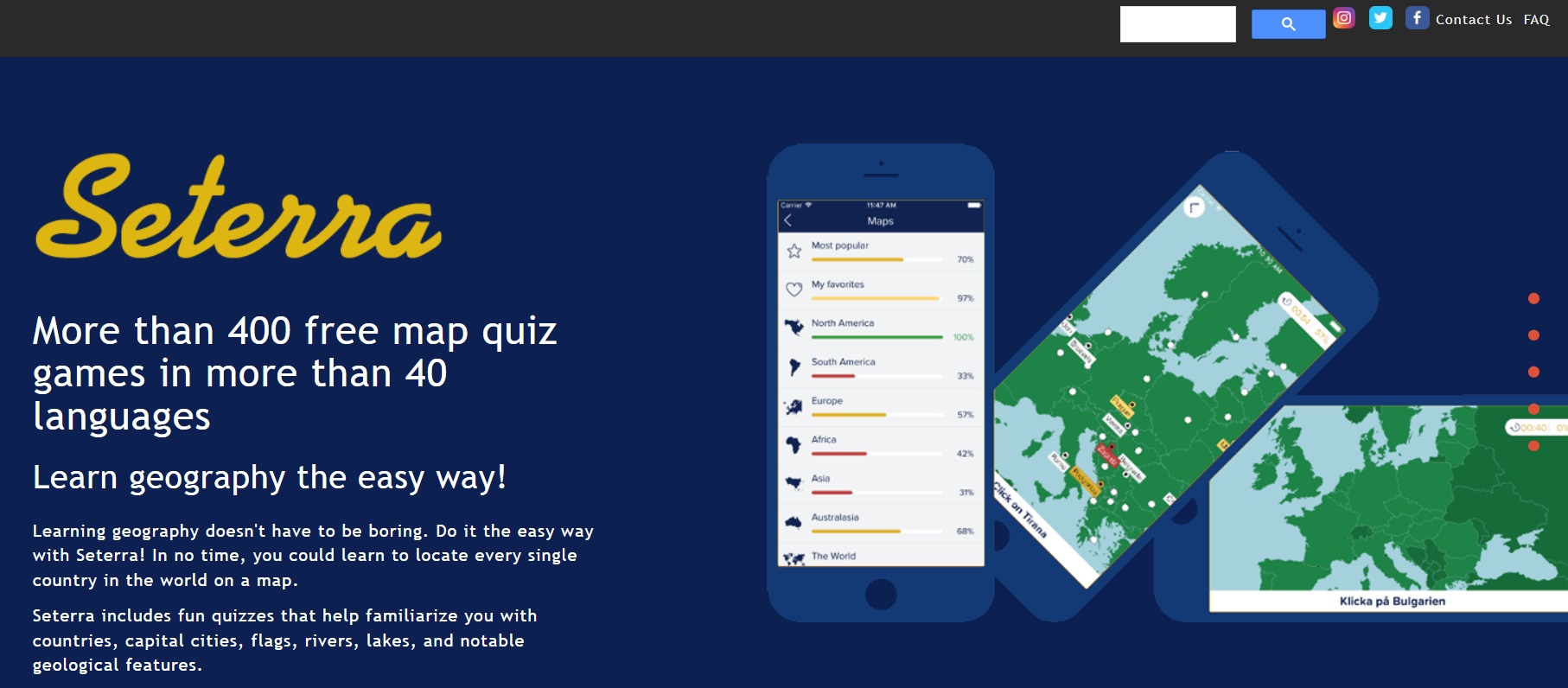 Next on our list is Seterra, an application that lets you learn about geography in a fun way. Seterra app features geography quizzes about every continent and country in the world.
Use the platform to learn more about a different country, capital, city, river, lake, and many more places. Besides quizzes, you can use the geography printables. These are PDF maps of countries and cities.
Unlike GeoGuessr, which has five game modes, Seterra has nine modes. Those include show all, learn, multiple, choice, pin, pin hard, type, type easy, and type with auto-complete.
And the best part is that you can switch from one to another while playing. With Seterra, you have to customize an existing map quiz to create a custom quiz.
Another difference? GeoGuessr is available in 10 languages. Seterra gives you options for 39 different languages. And you can access it for free online.
To enjoy the gameplay, you need to download the mobile application for your Android or iOS device. This app costs $1.99 as a one-time payment. That is the price of a one-month subscription compared to GeoGuessr.
Geotastic

Geotastic is a free geography quiz web application includes random street view drops, popular landmarks, or a flag guessing mode.
It is not as versatile or as big as GeoGuessr. But it is free. You can enjoy single-player mode or synchronous multiplayer.
GetLost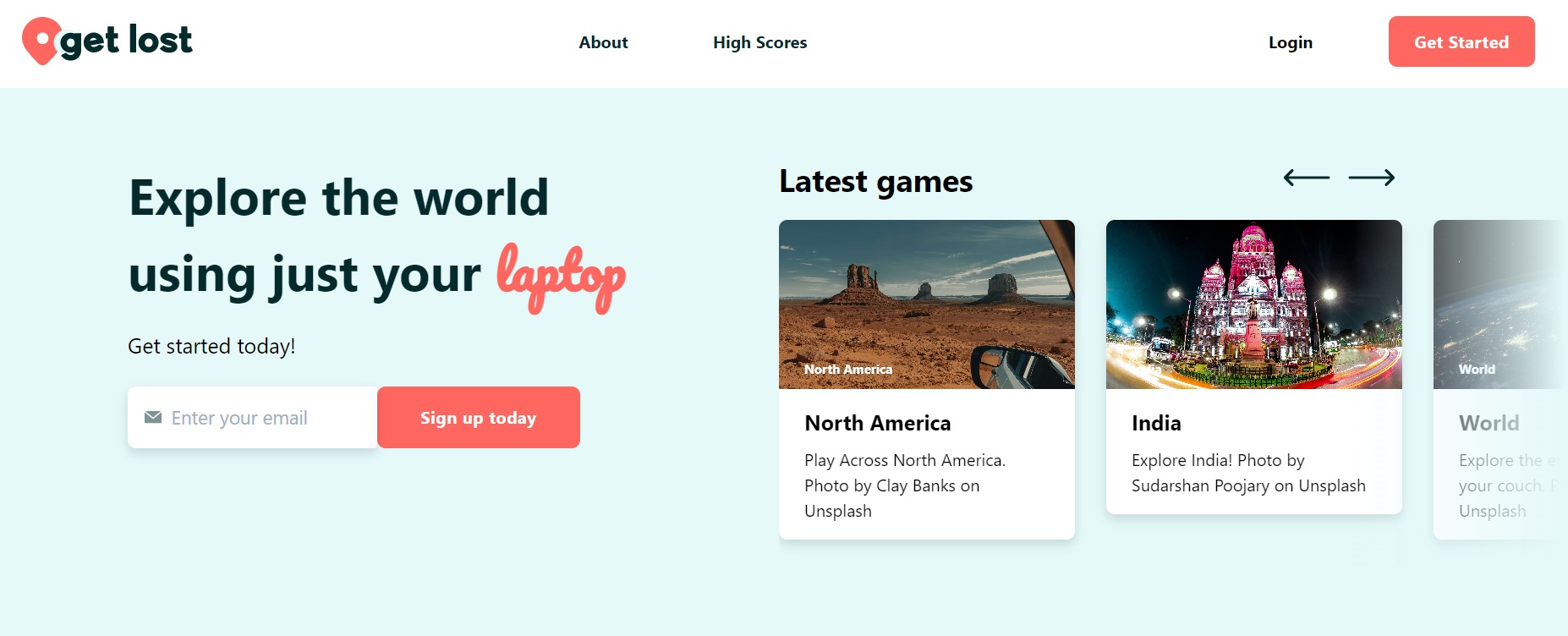 Our next GeoGuessr alternative is Get Lost, a game with a primary focus on the US and India. The geographic discovery game has randomized street-side maps. Every map has clues and hints that will help you figure out the location of the map.
There are five rounds, similar to GeoGuessr, and scoring depends on how close your guess is. The maximum score is 5,000 per round. See, enough similarities for you?
You can create an account to play the game or log in with your existing Google account or Twitter account.
The main difference is there is no multiplayer game here. But the single-player game is immersive, and you can use building names, street signs, and more to identify the city.
If you are a geographic aficionado, you should get a premium subscription. The free account is limited to one game session of five rounds per day. It is still more than GeoGuessr. The premium plan is $2.99 per month.
Hide and Seek World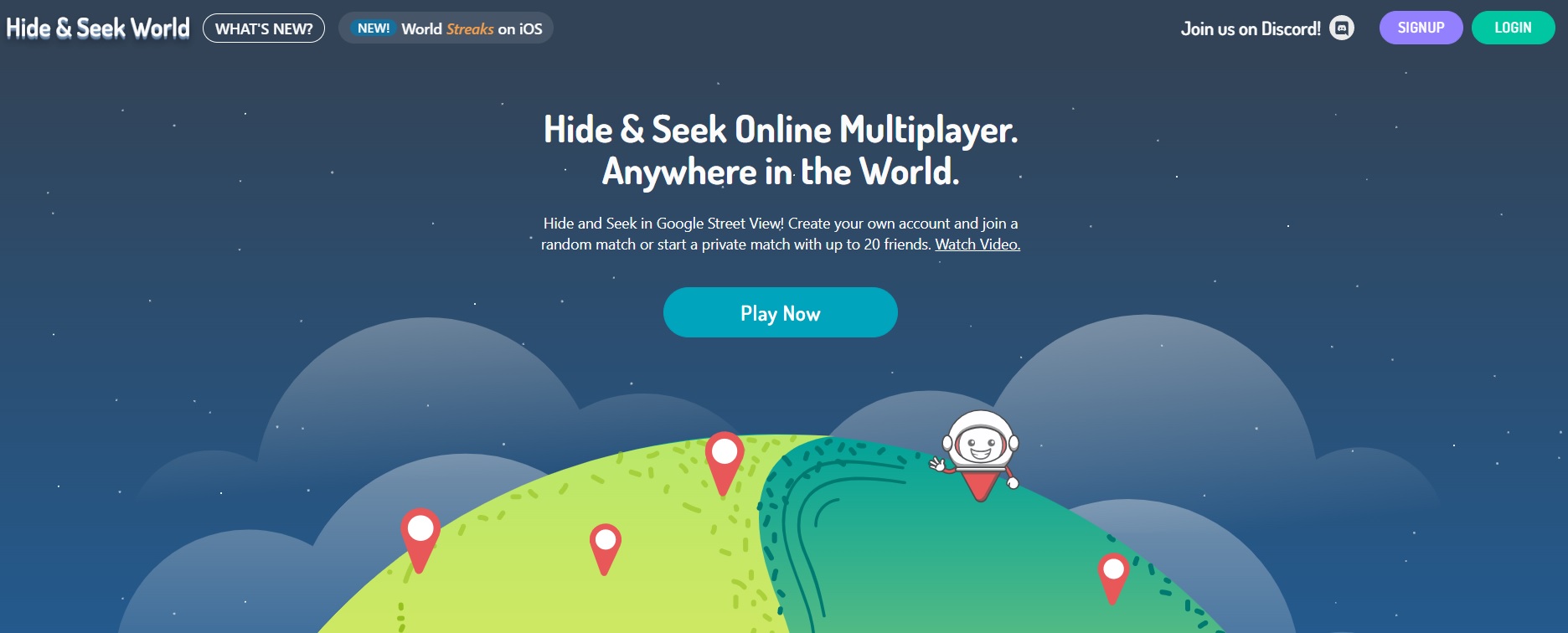 Hide and Seek World is a geo game developed as an alternative to GeoGuessr. The original game inspired the team to come up with Hide & Seek.
But there is a big difference. This one is strictly a multiplayer game. You can join a random game or create one and invite your friends to play together.
There are two modes. The classic match where you hide and find your friends, or Find Wolly. The latter invites you and your friend to find the mascot.
If you opt for the classic mode, there is one hider and multiple seekers. Each seeker earns points depending on how close their guess is.
The free version allows you to play 2 games per day. There are paid plans, a pro plan at $2 per month, and a premium plan at $4 per month.
World Geography Games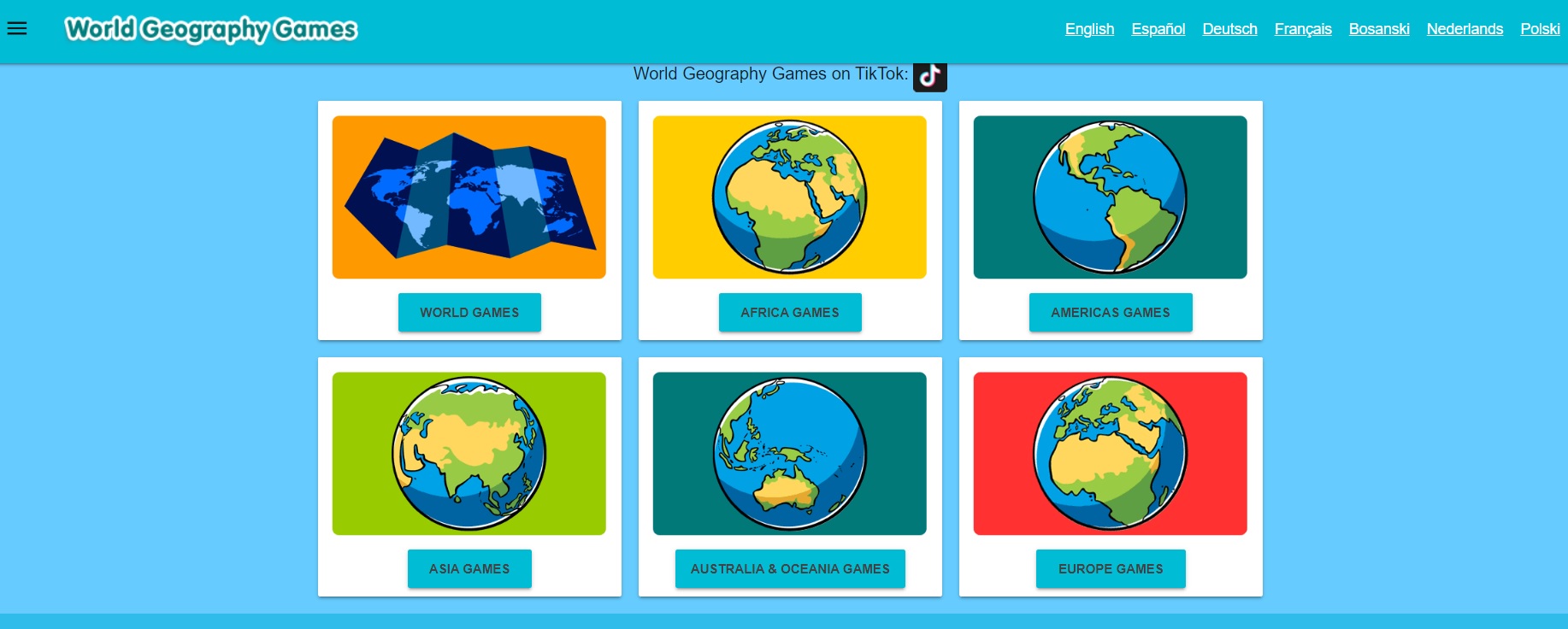 World Geography Games offers lots of interesting, entertaining, and educational quiz games for people of all ages. You can play it with kids, students, adults, and even seniors.
The questions are about the country in focus. It is a great educational game that can help teachers engage with their students in a fun way.
It is a free platform that will test your geography skills.
Zoomtastic

Among the many interesting GeoGuessr alternatives, we have Zoomtastic. It is a great game that allows you to learn about various countries in a fun way. The browser-based game starts by showing a map of a random country.
Then, players can guess the location within 30 seconds. The map pans out slowly, giving you more and more information over time. Four possible answers will appear after 10 seconds.
For those with a basic knowledge of geography, Zoomtastic is a great game to play. The downside is there is only one game mode. That means you can only guess countries, and not cities and landmarks.
GeoGuess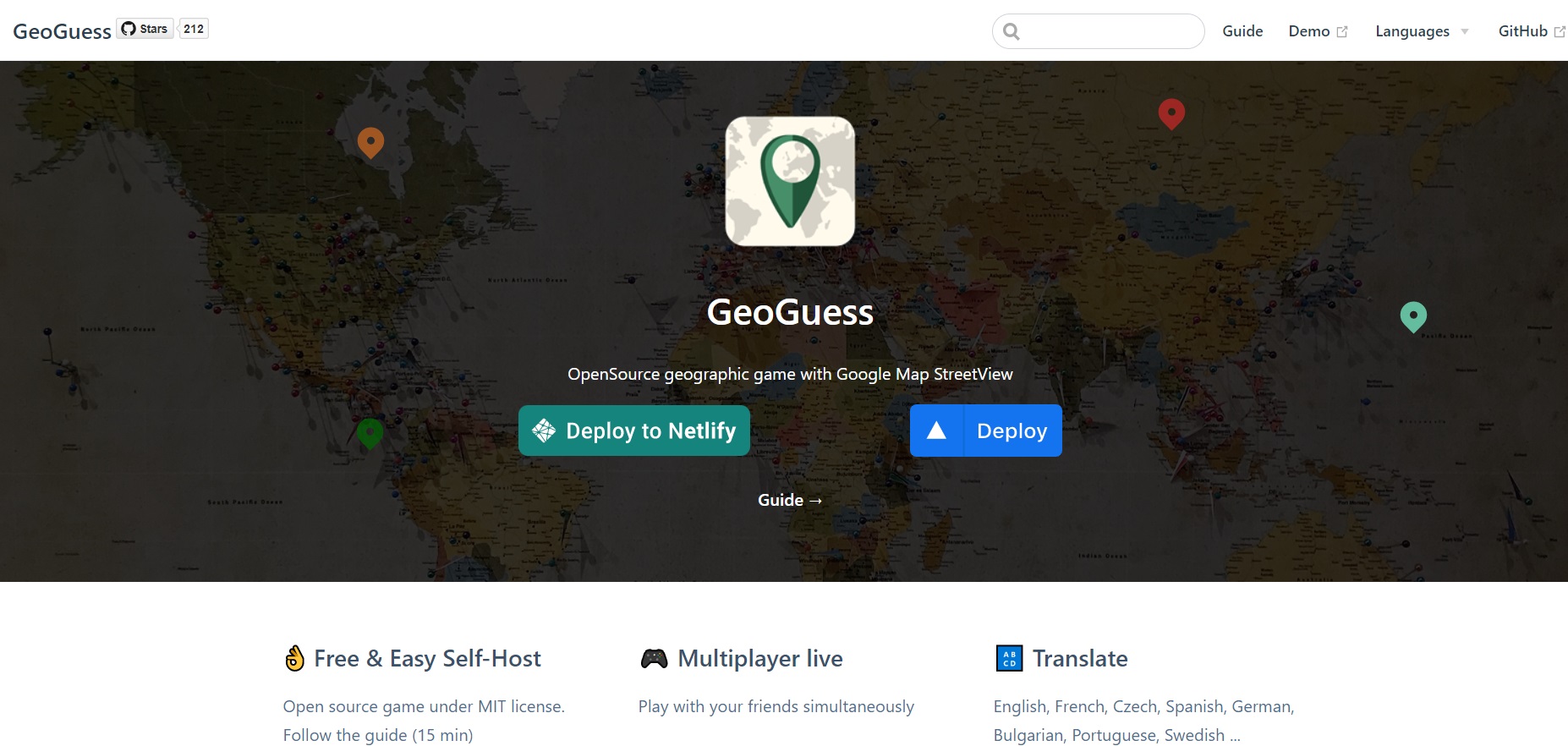 The name is very similar to the original game, right? Well, GeoGuess is a free and open-source alternative to GeoGuessr.
It utilizes Google Map Street View, and it was inspired by GeoGuessr. You can play in a single-player mode or multiplayer mode.
GuessWhere Challenge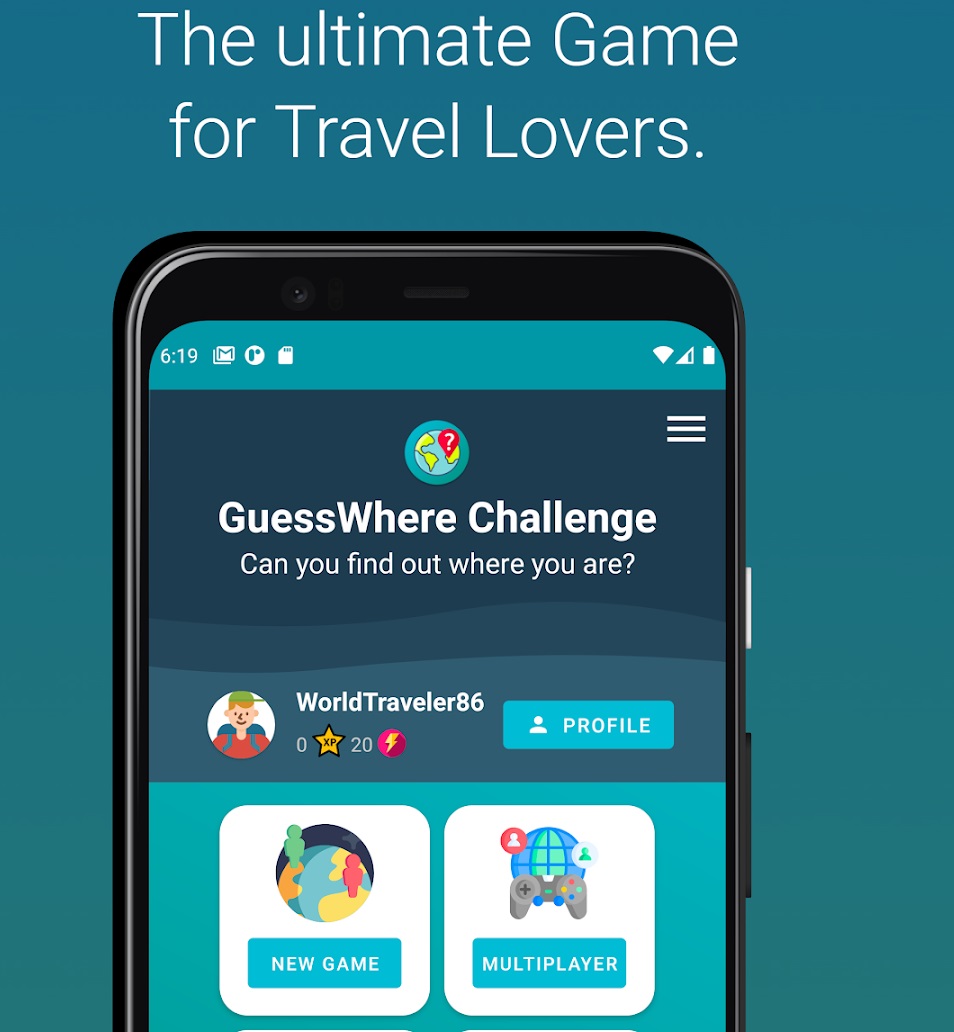 This geo game is designed only for Android devices. That is the limitation. GuessWhere Challenge will virtually teleport you to a random place on the planet. Then, you will see a panorama and try to guess the location.
The more accurate your guess is, the more points you will earn. Each session has five rounds of five different places.
The free game enables users to test their geography knowledge and skill. And it is a good way to travel to new locations virtually, right?
Ducksters

Our next game on the list is Ducksters. The trivia and quiz game covers several regions around the world. You can play all the continents, capitals, country flags, and more.
It also covers all of the specific US states, including their maps, capitals, and flags. You can also try playing mapping games, crossword puzzles, word searches, and more.
Think of it as a geography game taking the next level. Ducksters also has quizzes on history, science, and other subjects.
Lizard Point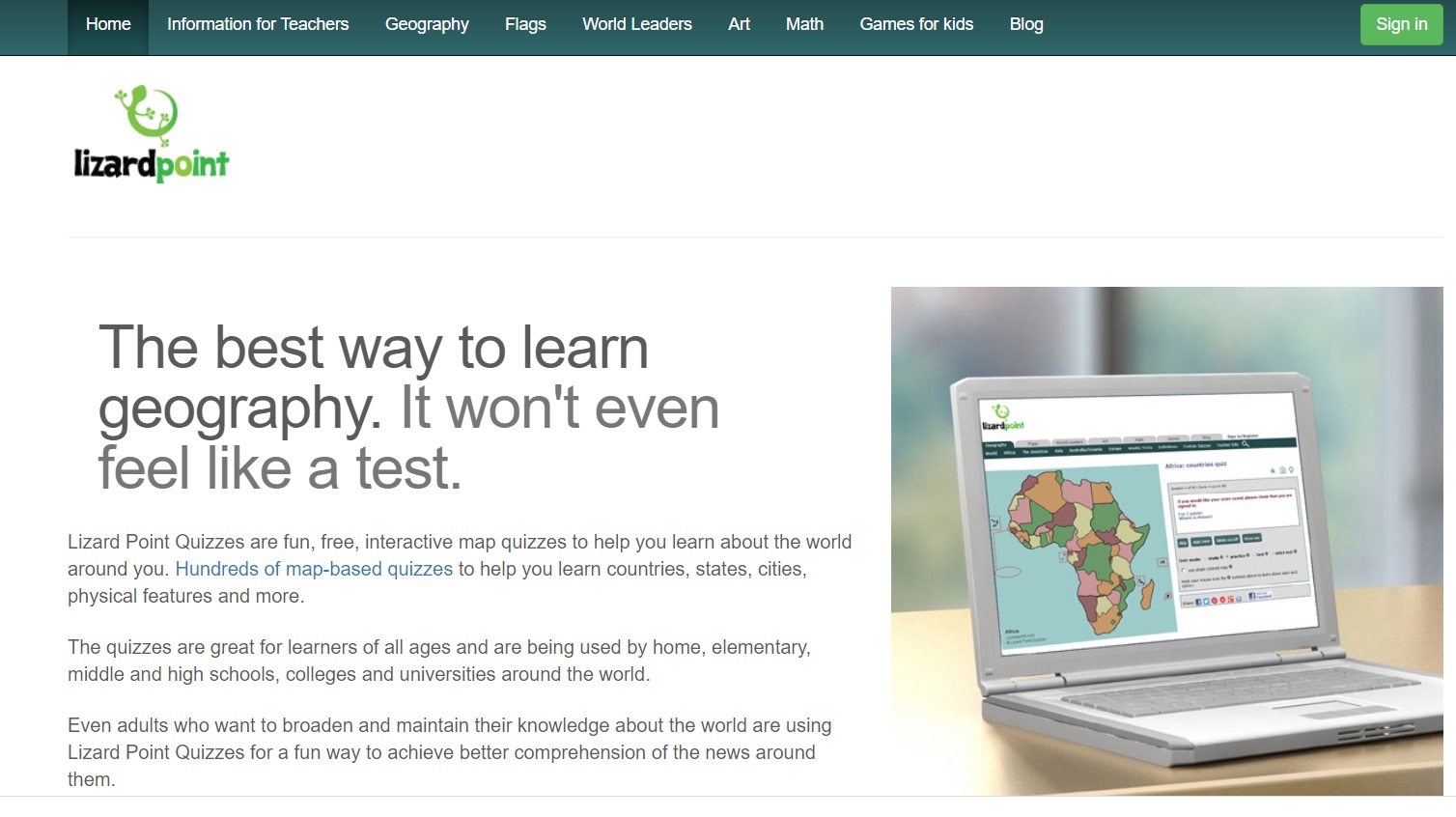 Lizard Point is an online quiz platform for different subjects including art, math, geography, and more. The name is derived from a location on the Lizard Peninsula in Great Britain.
The game was launched to improve fun education. It is free, but the website does feature ads. That might make your experience a bit more frustrating.
The most popular quiz is the country of Europe quiz which will encourage people to identify European countries on the map.
You can also create a customized quiz using Lizard Point. Just pick questions about places you want to make a quiz for.
And because it is an educational game, it features a Study mode. This mod comprises several materials on countries and states and allows users to learn using the materials. There is a quiz at the end.
Where Am I?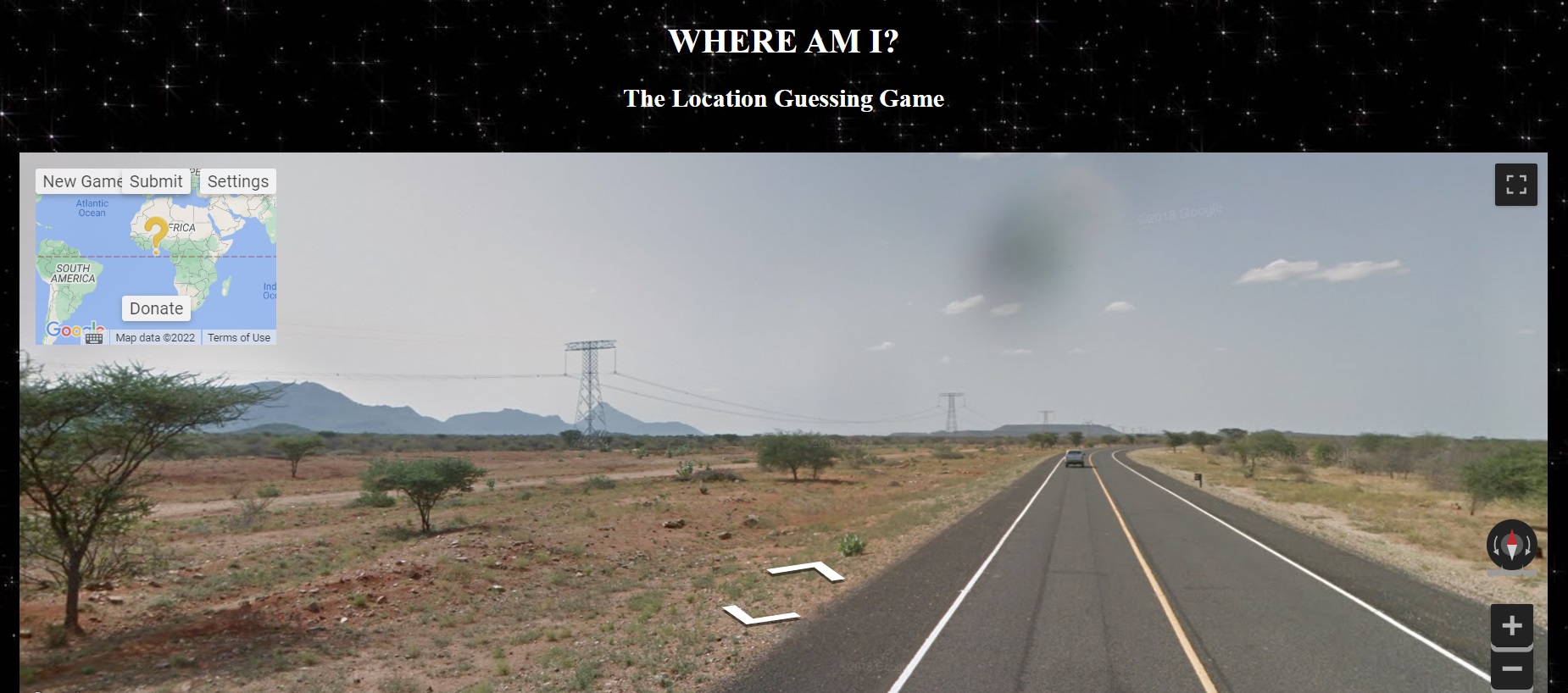 It is only fitting that we finish off the geography games with Where Am I?. It is a great GeoGuessr alternative that is a relatively minimalist game.
Basically, the game drops you in a random location anywhere in the world. You then use Google Street View Photo to guess the location.
You can play the game on mobile browsers, but we can say for certain, a larger screen helps you pinpoint the location better.
And the best part is that it is ad-free.