Sister Sister aired its final episode some 20 years ago. But who can forget the twins-separated-at-birth Tia and Tamera? We still carry the show in our hearts. The American sitcom aired from 1994 to 1999 for six seasons. With a rather simple, yet fun premise, the show managed to keep viewings high. But what happened to the cast of Sister Sister?
Where are they now? What are Tia and Tamera up to? The cast managed to keep close on the screen, and off the screen as well. Harry attended Tamera's 40th birthday bash in 2018. Since then, fans and actors speculate about a reboot. In January 2019, actors confirmed the revival. But we have no more info since then.
Let's take a look at what happened to the cast of Sister Sister.
Tia Mowry – Tia Andrea Landry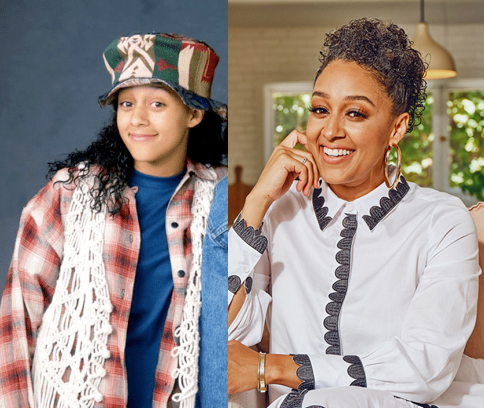 Tia played one part of the twins, a straight-A student graduating from high school at the top of the class. She aspires to go to Harvard but then goes to Michigan. Every now and then, she got involved in Tamera's schemes.
Tia Mowry first gained recognition for her portrayal of Tia Landry in Sister Sister. She appeared opposite her identical twin sister, Tamera Mowry. But the Mowry twins did not get separated at birth like the Landry twins.
Following the end of the show, the two appeared again in the fantasy comedy movie Seventeen Again. Then, they voiced the LaBelle sisters in Detention from 1999 to 2000.
The Mowry sisters started their career together, but they paved their own path. They started entertaining pageants and talent shows with their parents early on. And at the age of 12, they convinced their mother to move to California so they can start an acting career. The two started appearing in commercials first, and now they are big-time movie actors. In the 1990s, the Mowry twins also formed a singing group, Voices.
After Sister Sister, Tia attended Pepperdine University, studying psychology. And then she went to Europe to study humanities and Italian for a short period.
Tia published her first book in May 2012. Titled Oh Baby: Pregnancy Tales and Advice from One Hot Mama to Another, the book tells the story of a working mother.
From 2006 to 2015, Tia played a role in The Game. But she didn't return for the sixth season. From 2013 to 2015, she appeared in the series Instant Mom. And then from 2015 to 2017, she started her Cooking Channel series, Tia Mowry at Home.
Tia continued her working mother/cooking mother show with a podcast, Mostly Mom with Tia Mowry.
Tamera Mowry – Tamera Ann Campbell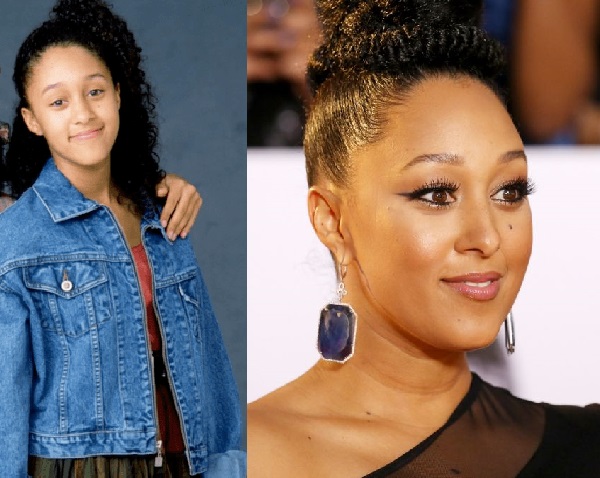 Tamera is the total opposite of Tia in the show. She is impulsive, less intellectual, and always speaks her mind. Tamera makes schemes throughout the show, sometimes even asking Tia to appear as her during tests.
The real Tamera is not like that. The two sisters are very similar in character. The two gained popularity through the Sister Sister show. But then they paved their own way and path in Hollywood. Some of the shows they did together include Tia & Tamera on the Style Network from 2011 to 2013.
In 2013, Tamera joined the syndicated daytime talk show The Real. She served as one of the co-hosts, alongside Tamar Braxton, Loni Love, and more. In 2018, she won Daytime Emmy Award for Talk Show hosts with her co-hosts. And in July 2020, she announced her exit from the show.
Tamera still works with Tia on some projects. For example, they started a project Need Brand, and sell products targeted at young mothers.
Tamera is a devout Christian. In one interview, she revealed she lost her virginity at 29. And she said she felt guilty after sex and remained in celibate until her marriage. In 2011, she got married to Adam Housley, a Fox News correspondent.
Jackee Harry – Lisa Landry Sims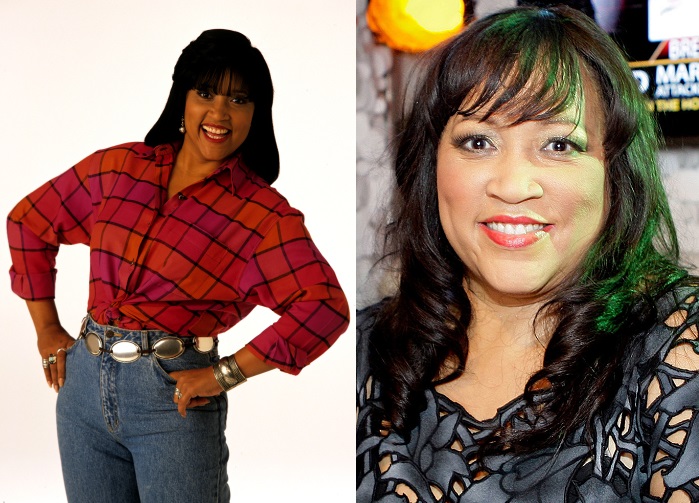 Jackee played Tia's adoptive mother, a fashion designer. But her personality worked better with Tamera, showing impulsiveness and recklessness. Jackee served as the comedy relief, often cracking jokes.
Born in 1956, Jackee is an American actress, singer, and comedian. Raised in Harlem, New York, she started studying acting at the High School of Performing Arts in Manhattan.
She started her career on Broadway, appearing in musicals throughout the 1980s. In 1983, she made her television acting debut.
Before she starred in Sister Sister, Harry got popular as part of 227. She left that show in 1989, and then joined Sister Sister five years later.
After Sister Sister, she had a recurring role in Everybody Hates Chris, and then on Let's Stay Together. She also appeared in the second season of Celebrity Fit Club 2.
For her role in 227, she won an Emmy Award. In 1987, she won the Emmy for Outstanding Supporting Actress in a Comedy Series, the first African American to do it. Sister Sister helped her earn two NAACP Image Awards, in 1999 and 2000.
Her latest projects include movies like Carole's Christmas, Christmas on My Mind, and Love in Store.
Tim Reid – Raymond Earl Ray Campbell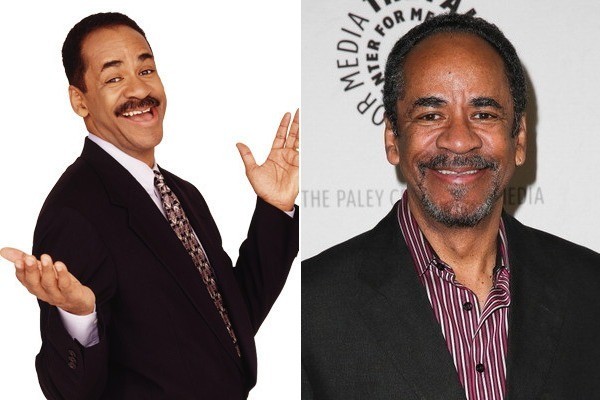 Tim portrayed Tamera's widowed father, running his own limousine service. Through the course of the show, he also takes on the father figure role for Tia.
Born in 1944, Timothy is an American actor and film director. He got famous long before stepping on the Sister Sister set. For example, he appeared in Simon & Simon from 1983 to 1987.
Following the end of the show, he continued his successful career in television. Reid portrayed William Barnett on That '70s Show from 2004 to 2006.
By the end of the show, he started his directing career. In 1997, he built New Millennium Studios. The studio got used for many movies and television shows. He sold the property in 2015 due to a lack of incentives in the state of Virginia to bring film production.
In the past few years, he appeared in the movies Check Inn to Christmas and Baking Christmas.
Marques Houston – Roger Evans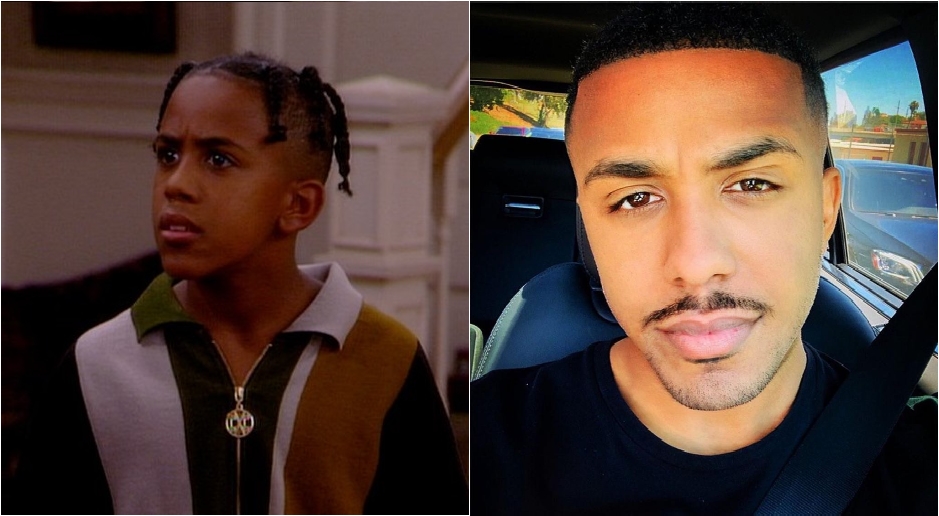 Roger played the fan-favorite nerdy and annoying neighbor and friend. Besides his acting career, Marques has a successful music career as well. In fact, more people recognize him as a singer than as an actor. He also works as a record producer.
From 1990 to 2001, Houston worked as a member of the R&B group, Immature/IMx. And then in 2003, he started his solo career.
In October 2003, he released his debut album, MH. The song Naked, peaked at Number 13 on the Billboard Top R&B songs. In March 2007, he released his third solo album. In 2014, Houston reunited with IMx for some tours across the United States.
As for his acting career, in 2004, he appeared in the movie You Got Served. From 2005 to 2006, he starred in his own television series, Cuts. It lasted only two seasons.